The NFL has been a proud promoter of the U.S.A.'s real national pastime since 1920 when it was known as the
American Professional Football Association.
It remains the premiere professional football organization in the United States.
The NFL is committed to maintaining its leading edge in the sport nationally while continuing to enhance its global reputation for excellence, as well as the NFL's signature excitement. In furtherance of these goals, the NFL is excited to share its new social media campaign.
Here's a preview:
The Commissioner dressed up and giving a briefing!
I want to show you some of the exciting things that are keeping the NFL busy:
Camera equipment!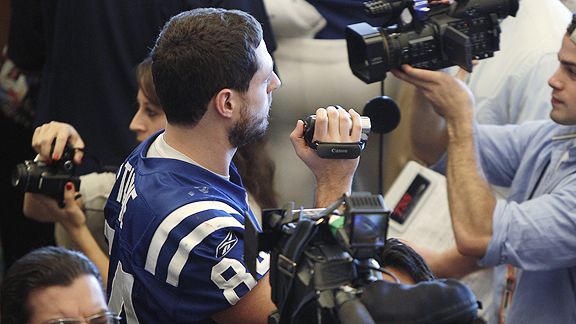 Colts tight end Jacob Tamme on MEDIA DAY!
That's not all. OUR NEW SPONSOR IS

Tide!
Tide is the World's biggest selling laundry detergent brand!
Welcome, Tide, to the NFL family.
The NFL has more to share with you.
Tide
is a great laundry detergent. It cleans
and
brightens. 
Tide pods only look like candy! lol!
You'll need real candy for your sweet tooth,
but Tide pods will leave your clothes sweet smelling!
It's Tide!
www.tide.com
Looks like Vernon Williams is excited about
his super clean
shirt freshly washed in Tide.
Check back with us frequently for more exciting updates on the NFL's commitment to the continuing popularity of professional football - and wash your laundry with
Tide
!